Unique solutions require extensive research and development work. With its European patent for Euroval® underfloor heating, HARREITHER has been breaking technological ground from the moment the company was first established. This search for new solutions not only provided the original impetus for HARREITHER, but also remains a goal pursued by the company to this day.
Each year, the Gaflenz-based family company invests an impressive 4% of its profit from ordinary business activities into its own research and development. This is how the company has a staggering 38 brands and patents to its name, and creates cutting-edge solutions that set new standards in the technological field.
We have solutions that others do not offer.
An integral part of our company philosophy is our dedication to our local region and to Austria. With over 80% of value added within our home country, HARREITHER has been certified an Austrian Model Company ("Österreichischer Musterbetrieb"). Our safety chain, from the selection and careful processing of raw materials all the way to product delivery, is subject to the tightest controls. It is also constantly monitored by external institutes, which is why many of our products carry the Austrian Quality Seal ("Österreichisches Gütesiegel").
Made in Austria.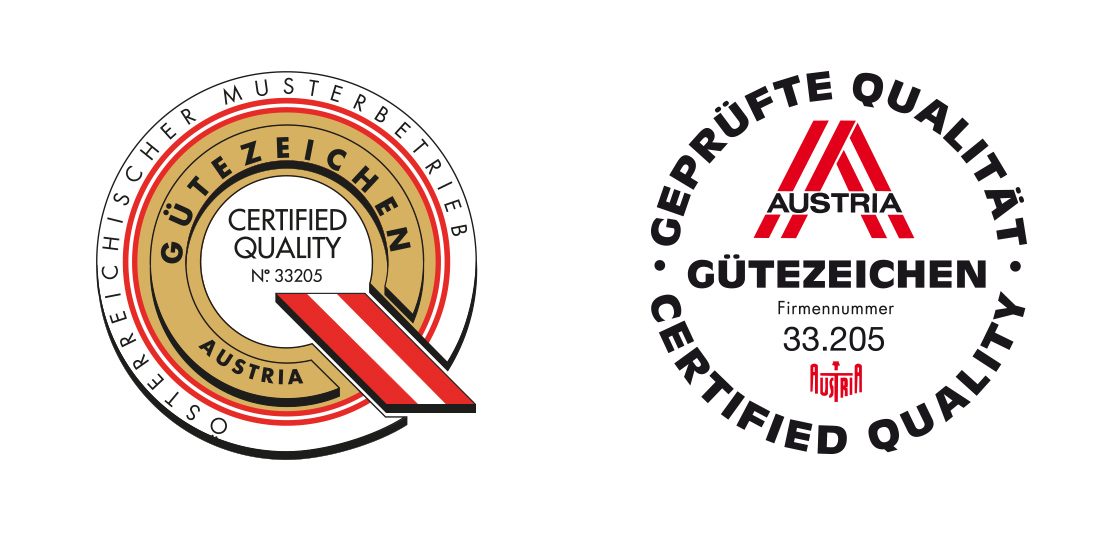 It takes specialist skill and great craftsmanship to marry high-value components together to produce a complete system. Thanks to the "selective distribution" principle, HARREITHER is able to guarantee consistent quality. When we choose system partners, we seek out those who think innovatively, value professional development, understand customers and exhibit an aptitude for problem-solving.
The HARREITHER Academy works with up to 400 carefully selected HARREITHER system partners to perfect an incomparable market presence and provide customers with the highest quality service day in, day out. When combined with innovative solutions, this "selective distribution" enables us to offer our customers a system guarantee that goes far beyond that of most of our competitors.
Specialist knowledge means specialist service.
... specialist trades:
The market is undergoing a transformation. Distribution structures are changing, product diversity is expanding, competition is growing. HARREITHER gives skilled trades people everything they need to respond to these developments. By working with unique system solutions for healthy heating and cooling, HARREITHER's system partners are operating in a future-focused market with tremendous potential and are proving themselves to be specialists in the field. Thanks to the two-stage selective distribution process, our partners also benefit from regional exclusivity. For every system partner HARREITHER takes on, an average of 20 other applicants are turned down. This guarantees the large majority of system partners a unique market position.
Would you like to find out more about system partnerships? We will be happy to provide you with information.
... architects and designers:
We are specialists in innovative panel heating and cooling systems with a proven track record as a reliable partner. We are always looking to share information and ideas with our partners. This means regular communication between you, the partner making the customer's vision a reality, and us, the partner providing innovative and tailored comfort solutions. Our service is at the forefront for you. If you want your client to discover what it will feel like in their own rooms, why not take them to one of our ultra-comfort houses? Or are you planning a construction project with unique requirements that call for a specialist solution? Our technology department is on hand to help.
Boasting over 35 years of experience and expertise, we are here to support you and your clients.
It was in 1986 that HARREITHER first developed the idea of training system partners in technical and business skills and thereby giving them an edge over the competition. We have been focused on on-the-job, measurable and practical training in the fields of technology, customer experience, innovative marketing and applied business studies. Together with the Research & Development department, the Academy represents a pillar of HARREITHER's future – every year, 4% of the profit from ordinary business activities is invested in both divisions. Coupled with the selective distribution process, this places the HARREITHER Group well ahead of the times, setting new benchmarks for over 30 years.
The HARREITHER Academy has since been opened up to SMEs from other sectors, with its MBA for Sales master's course providing salespersons with a tailored training programme, complete with an academic qualification. From one-off training sessions to MBA courses offered as dual-study programmes, we can provide everything you need to succeed.
Progress through knowledge.
HARREITHER's affinity for sport has been integral to the brand ever since the company was founded in 1982. Some of our managers are former professional athletes, who trained with us on the side of their earlier sporting career, securing themselves a future with HARREITHER. Team spirit and dedication are highly valued characteristics at HARREITHER – just as they are on the sports pitch.
We also stand out when it comes to sports sponsorships. From day one of the company's history, sponsored teams and athletes have been taking part in training courses at our academy. Their identification with our company, their willingness to train and develop and their active sales experience makes them excellent ambassadors for the brand.
Furthermore, carefully selected sports guarantee year-round media presence. In 2017, HARREITHER – one of 14,500 businesses involved in sport – ranked among the top 25 brands for sports sponsorships in Austria (source: Focus).