Ovalverteiler
"... the must-have for optimum energy flow!"
A chain is only as strong as its weakest link – and there are no weak links here. When you are providing a climate control system designed for ultimate comfort, nothing can be left to chance. Which is why every last detail of this high-end product is carefully considered, developed and tailored to the exact surroundings of the system.
HEAT DISTRIBUTION SYSTEM WITH A DIFFERENCE:
Provides ultimate comfort by adjusting the flow regulator.

Every individual heating circuit can be controlled electronically (when combined with Universum® home management system).

Designed with optimal cooling function too.

Smooth oval pipe geometry in a modular design.

Indestructible high-tech plastic.

Small installation depth thanks to oval design.
Ovalverteiler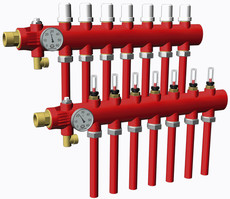 Hisan®
Installation-system
"... the future-proof installation system!"
Our advanced installation system is the ultra-safe option – whether it is being used for drinking water, heating, pressurised air or chemical piping systems. The polypropylene (PP-R) material is thermally stabilised and yet ideal for welding thanks to the extremely safe polyfusion welding technique, a consistent form of joint technology.
WITH UNIQUE BENEFITS:
Ideal for cold-water and hot-water climate-control installations.

100% food-safe – impeccable hygiene credentials.

Ideal for cooling systems.

Long service life.

Energy-saving and quiet.

Corrosion-resistant material.

Homogeneous system thanks to polyfusion welding.

Constant and stringent quality control performed by nationally accredited test institutes.

Full 10-year system guarantee.
Hisan®
Installation-system